Investment Cards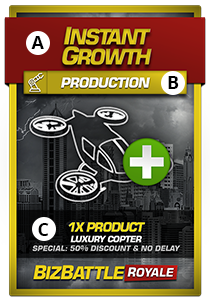 Investments Cards are designed to accelerate your Business. With our new investment card engine (available soon) 4 cards can be used during the game, with each card being used only once and then removed from the player's library. The cards can be won in the game and purchased in the shop. Cards are differentiated according to their value, normal cards are grey, special blue, rare green and epic golden.
Example: A Production Investment Card (B) with an Instant Growth Attribute (A)
- The player can bring in a copter into play without having to pay the full development cost (C)
- Required additional investments (such as Hipo Batteries) are already included (C)
- The copter is launched to the market without delay (C); usually newly developed copters have a delay of 2 quarters until they are available in the market.
So a very powerful card, which is also very rare.
---
Production
|
Marketing
|
Cost
|
Market Research
|
Finance
|
Investments
|
Specials
Production
Growth
1x Product
Commercial Copter
Bonus: 50% Discount
Growth
1x Product
Luxury Copter
Bonus: 50% Discount
Instant Growth
1x Factory
Bonus: 50% Discount
Special Bonus: no delay
Instant Growth
2x Factory
Bonus: 75% Discount
Special Bonus: no delay
Instant Growth
1x Product
Business Copter
Bonus: 50% Discount
Special Bonus: no delay
Instant Growth
1x Product
Commercial Copter
Bonus: 50% Discount
Special Bonus: no delay
Instant Growth
1x Product
Luxury Copter
Bonus: 50% Discount
Special Bonus: no delay
---
up
Marketing
Image Campaign
+ 1% Demand

Online Store
+ 1% Demand

Product Innovation
+ 1% Demand

Sales Campaign
+ 1% Demand

Brand Campaign
+ 1% Demand

Online Store
+ 2% Demand

POS Campaign
+ 1% Demand

Image Campaign
+ 2% Demand

Product Innovation
+ 2% Demand

Sales Campaign
+ 2% Demand

Brand Campaign
+ 2% Demand

POS Campaign
+ 2% Demand

Mega Store
+ 5% Demand

Image Campaign
+ 3% Demand

Product Innovation
+ 3% Demand

Sales Campaign
+ 3% Demand

Brand Campaign
+ 3% Demand

Online Store
+ 3% Demand

POS Campaign
+ 3% Demand

Image Campaign
+ 5% Demand

Product Innovation
+ 5% Demand

Sales Campaign
+ 5% Demand

Brand Campaign
+ 5% Demand

Online Store
+ 5% Demand

POS Campaign
+ 5% Demand

Strategic Partnership
+ 10% Demand

Mega Store
+ 10% Demand

Strategic Partnership
+ 5% Demand

---
up
Cost
Global Sourcing
- 1% Costs

Outsourcing
- 1% Costs

Strategic Partnership
- 1% Costs

Process Innovation
- 2% Costs

Project
- 1% Costs

Product Digitazation
- 1% Costs

Process Innovation
- 1% Costs

Outsourcing
- 2% Costs

Strategic Partnership
- 2% Costs

Global Sourcing
- 2% Costs

Project
- 2% Costs

Product Digitazation
- 2% Costs

Process Innovation
-7,5% Costs

Outsourcing
- 3% Costs

Strategic Partnership
- 3% Costs

Global Sourcing
- 3% Costs

Project
- 3% Costs

Product Digitazation
- 3% Costs

Process Innovation
- 3% Costs

Outsourcing
-5% Costs

Strategic Partnership
-5% Costs

Global Sourcing
-5% Costs

Project
-5% Costs

Product Digitazation
-7,5% Costs

---
up
Market Research
Market Research
Market Overview
Bonus: Validity for 4 Quarters
Instant Market Research
Market Overview
Bonus: Validity for 4 Quarters
Special Bonus: No delay
Industrial espionage
Market Overview
Special Bonus: Unlimited Validity
---
up
Finance
Bonus Credit
$300.000.000 Credit
3% Interest Rate
Growth Shares
Emit + 5% more shares
+1.25% / x 4
Financial Injection
$100.000.000
Money for free
Bonus Credit
$400.000.000 Credit
3% Interest Rate
Improved Credit Line
$250.000.000 Credit
1% Interest Rate
Growth Shares
Emit + 10% more shares
+2.5% / x 4
Financial Injection
$200.000.000
Money for free
Bonus Credit
$500.000.000 Credit
3% Interest Rate
Improved Credit Line
$500.000.000 Credit
1% Interest Rate
Growth Shares
Emit + 15% more shares
+3.75% / x 4
Financial Injection
$400.000.000
Money for free
Bonus Credit
$750.000.000 Credit
3% Interest Rate
Improved Credit Line
$750.000.000 Credit
1% Interest Rate
Growth Shares
Emit + 20% more shares
+5% / x 4
Financial Injection
$600.000.000
Money for free
---
up
Investments
Product Upgrade
Develops HiPo Batteries

Product Upgrade
Develops HiPo Motors

Product Upgrade
Develops Jet Engines

---
up
Specials
Career Boost
2x Experience Points

Career Boost
5x Experience Points

Career Boost
10x Experience Points